For determining the standardization options, we look very closely at your interests and how the benefits of standards can support the market acceptance of your innovative concept. From that perspective, the possible benefits of making agreements (to be recorded in a standard product) are:
Recognition in the market and among professionals
Effectiveness and efficiency: coordination and simplification
Reliability and clear expectations
Solving (transcending) industry bottlenecks
Distinction in the market (bona- & mala fide)
Self-regulation: influence of legislation
Increase in value of products and services
Market faster internationally
These advantages often result in greater user trust (market acceptance), a reduction in cost reduction and an increase in profit.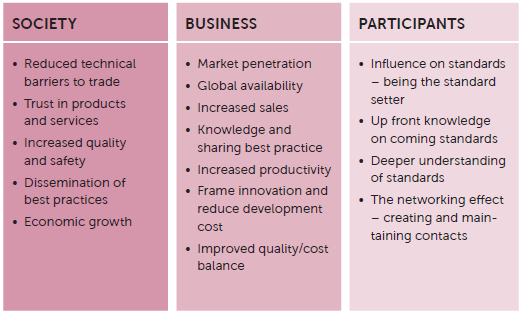 Advantages of participating
Adjusting, further detailing or expanding one or more existing standards are standardization options for stimulating the market acceptance of your innovative concept.
You can influence this by participating in a standards committee. Committee participation has the following advantages:
Information about relevant developments
Influence / determine the content of the standards yourself
(Inter) national networking and profiling
Contributing to innovation
Knowledge building and development
NEN brings interested parties together to make jointly applicable agreements and facilitates their implementation. NEN thus offers a gateway for market parties towards international decision-making and strengthening export power.
Standard development steps
The reason is often a request from the national or international market, but can also be an initiative from NEN. NEN works with market parties to find answers to questions such as:
Which organizations have an interest in the subject?
What do parties want to achieve with agreements?
What needs, developments and points of discussion characterize the market?
What kinds of relevant laws, regulations and standards are there?
What requirements-setting agreements or quality marks are there?
To what extent does the Dutch market attach importance to an active role in the development of national, European or global standards?
In case of a positive conclusion, the standards development process is started, with a choice between various options. Click here to read more about the various types of agreements .
Set a new standard yourself
Another possibility is that certain innovative aspects of your concept are really novel and not yet covered in existing standards of in standards development processes. In that case, an obvious option is to draw up a NEN Spec and to set a new standard yourself. Click here to read more about the NEN Spec.
The development of standards is not free of charge. The funding of standard development activities in a standards committee is determined by the stakeholders. They jointly decide on the deployment of NEN and the distribution of the associated costs. These are often shared by the participating parties according to the interest they have in creating the standard(s).
The annual costs of a chair in an standards committee depend, but are often in a range between 1.500 – 3.000 euro. The costs of the development of a NEN Spec depend on the role and input of the holder of the innovative concept and the experts involved. The costs for developing a NEN Spec are in a range between 5.000 – 15.000 euro.
As innovative products can geta boost through standardization, investors or, for example, customers can be involved in funding NEN's standardization activities. After all, standardization reduces the uncertainties for these parties and offer other advantages which may have added value for these or other stakeholders.
NEN can support you in providing insight into the benefits and added value of standardization. Submit your question or request a review.